Julienne Liberto

As Julienne was becoming a film and television star, she was also dedicating a lot of her time to singing and dancing. Although she hasn't released an album as yet it seems to be in line for the not so distant future. In the meantime her demo album was released in the summer of 2006. She is also involved in the Musical Theatre of the Royal Academy of Dramatic Arts (RADA) in London.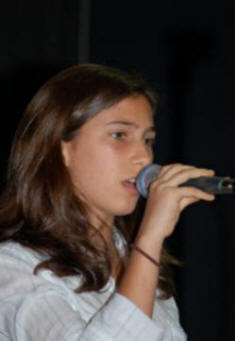 She performed in the RADA Musical Production staged at The Venbrugh Theatre in London(August 2006).
Julienne has been frequenting the academy of classical ballet at the Balletto di Roma since 1994 (Classical and Modern/Jazz). She was awarded the prestigious first placing with the ballet group of Marina Domaschi, for the category Choreographic Compositions, in the XII International Dance Recital Contest, "Città di Rieti". The televised final 'Gran Gala' of the RIETI DANZA FESTIVAL , presented by Oriella Dorella and Paolo Di Lorenzo, was held at the Teatro Flavio Vespasiano in Rieti on the 13th April 2002 .